Posts: 713
Joined: Sat Jan 27, 2018 3:27 pm
Omar Bongo wrote:Except when we're talking about the sacred Electoral College, of course
That would be the
constitutional
Electoral College, of course. Article 2, Section 1, as well as the 12th Amendment.
A fuzzy term like "the will of the people" is the stuff of Rousseau and the French Revolution. In America, we have elections that help figure that out, but also checks and balances to protect against the tyranny of the majority. If what the GOP is doing in Wisconsin is truly opposed by enough people, they have recourse to legislative and judicial remedies. But let's not pretend that the effort to ignore or nullify election results is somehow unique to the GOP. The Left has been thwarting the "will of the people" for years through unelected judges, taking it to a whole new level since 2017 with their strategy of
"judicial resistance"
to anything and everything Trump. You don't think the Obama administration and its holdovers in government weren't doing all they could to hamstring the incoming Trump administration? That's precisely why Sally Yates and James Comey were fired.
In the Executive branch, the closest you get to "what the people want" is 270 electoral votes every four years. The World Series is determined by best-of-seven wins, not total runs. Same with the Electoral College and total votes. We have a constitutional republic, not a direct democracy. By that account 306-232 sounds pretty "will of the people" in my book. Or if you need a visual: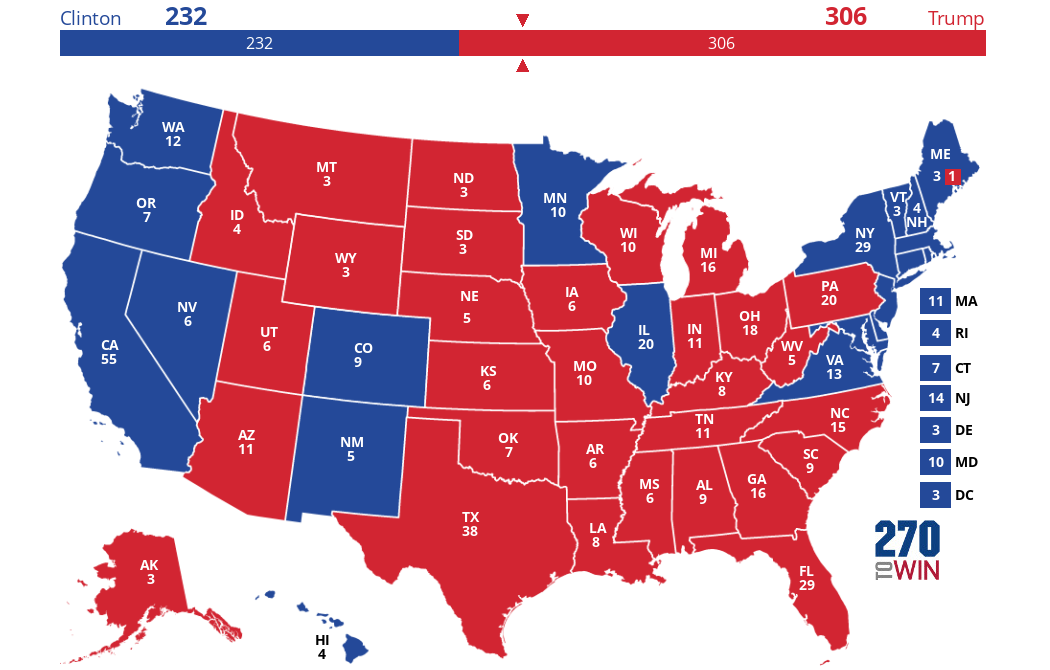 But if the "will of the people" is so sacred, I'm sure you guys were equally upset when the will of the California voters as expressed in Proposition 8 (2008) was undermined by a single judge (who also happened to be gay--no conflict of interest there). Or when the Will of the People in dozens of states was overturned by
Roe v. Wade
(1973) and
Obergefell v. Hodges
(2015).
---
Credo ut intelligam